Trilogy Polishing Pads
If you are looking for a set of polishing pads designed to be used on dark quartz, this is the right place. The Trilogy pads by Weha are specifically constructed to work on a variety of dark colored quartz stones.
Polishing Pads for Dark Quartz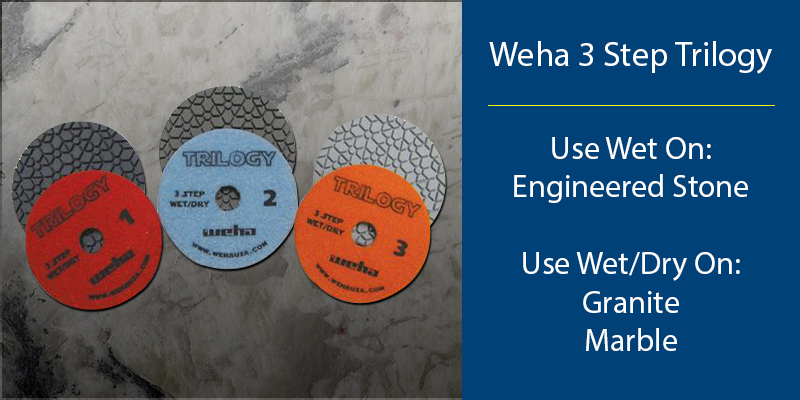 For good reason, there are some fabricators that would scoff at the idea that you can get a great polish on dark quartz material in just three steps. Yet, it is no secret that there are specific things to consider when choosing a diamond polishing pad. Weha has designed a polishing pad that is engineered to accomplish this task. These polishing pads are made for use on the following quartz colors:
Black Quartz
Black Engineered Stone
Brown Quartz
Brown Engineered Stone
Gray Quartz
Gray Engineered Stone
Not Only for Dark Quartz and Engineered Stone
Although these polishing pads are designed to work with quartz and engineered stone, they are not lacking when it comes to granite and marble. The Trilogy Dark Quartz polishing pads work just as well on natural stones including:
Absolute Black
Uba Tuba
Baltic Brown
Dark Marble
Dark Granite
Why So Effective?
The effectiveness of a diamond polishing pad depends on a variety of factors. For example, one such factor that contributes to the effectiveness of the Trilogy pads is the exclusive GWDTP (Geometric Water Displacement Technology Pattern). This is the pattern used in the cutting surface of these pads. The pattern on the cutting surface has an impact on the life of the polishing pads as well as the cutting quality. Additionally, the pattern used on the cutting surface of a pad can be designed to achieve specific results. Hence, by designing the Trilogy 3 Step Polishing Pad with this exclusive cutting pattern, Weha is able to bring you a polishing pad that offers specific benefits:
Longer Life of Outer Segments
Better Contact With The Stone's Surface
These benefits contribute a faster cutting polishing pad that can be used for a number of specific polishing tasks. Furthermore, the Trilogy 3 Step Polishing Series can be used on a wide array of natural and engineered stone materials.
Video Demonstration
Fabricators are astounded when they see the performance the Trilogy Dark Quartz polishing pads in action. Hence, here are a couple of videos demonstrating the results for you:
Dark Material
Light Colored Material
Dark Quartz Polishing Pads