Engineered Stone Polishing Pads
Stone fabricators like these engineered stone polishing pads. This is because it is designed to compete with the best pads. Additionally, this polishing pad series performs well on many surfaces.
Designed for Engineered Stone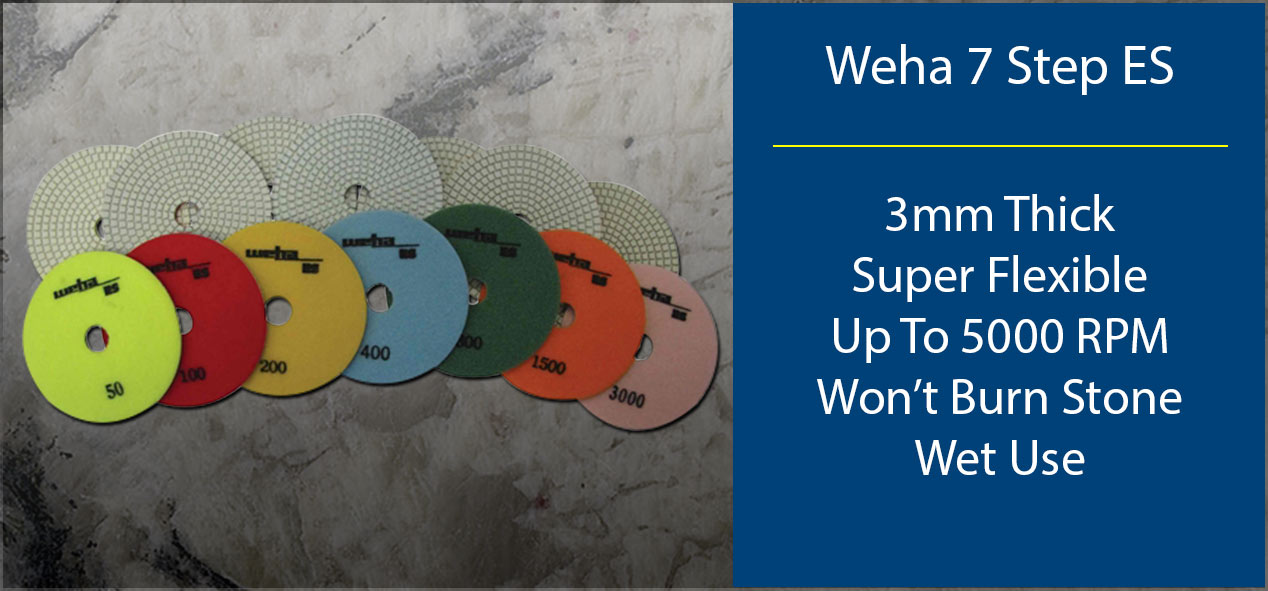 The 7 Step ES polishing pads perform well on engineered stone material. In fact, these polishing pads have "bite" as a result of high diamond concentration. They also polish quickly and contain no dye. As a result, they do not to burn the resin in engineered stone surfaces.
A Quality Polish With Adaptability
The ES polishing pad series polishes well in seven steps. Yet, some materials require fewer steps to hit the polishing target.
These pads are primarily for polishing engineered stone. However, they can also be used for other materials. In fact, the ES engineered stone polishing pad system can be used on the following:
Concrete
Marble
Granite
Quartz
Fabricators view the ES 7 step system is viewed as the best polishing pad for engineered stone because design. This is because there are factors that can leave engineered stone marred or marked up by polishing. Hence, Weha has engineered this system with the following features:
Dye-Free Resin
High Diamond Concentration
White Resin
Quick Polish Ability
Designed for Many Surfaces
The 7 Step ES engineered stone polishing pad is made specifically for use on an array of materials including:
Polishing Silestone
Polish Zodiaq
Cambria Polishing
Caesarstone Pads
Polishing Granite
Polish Marble
Engineered Stone Pads – 7 Step