Stone Grinders are Flexible and Versatile
Stone grinders make use of cutting discs by spinning at a depth of around 1/8 of an inch. These machines are powered in various ways. Some power sources include:
Electricity
Gasoline
Propane
Stone professionals utilized these in a variety of circumstances – including wet or dry environments – because they are flexible.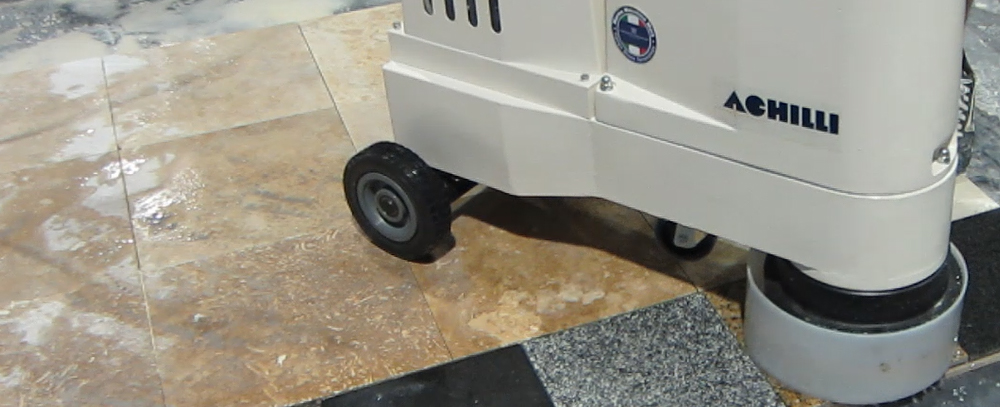 Fabricators use numerous kinds of tooling with grinders. Pads and/or discs allow operators to perform many functions. The pads (or discs) are composed of various materials. Some of these materials include:
Silicon-Carbide-Impregnated Grinding Stones
Tungsten-Carbide Inserts
Diamond-Segmented Grinding Tools
Additionally, accessories for removing heavier films and mastics are also available.
Grinders usually offer a softer profile than scarifying or shot blasting techniques. This is because they polish rigid, heavy concrete instead of just wearing down the outer layer.
Machine Designs and Configuration
Grinders are available in a number of configurations including walk-behind and hand-held versions which are good for different purposes.
Walk Behind Grinders
Walk-behind style grinding machines are designed for flooring as well as slab surfaces. These vary in size and can come in the following configurations:
Single-Disc
Dual-Disc
Quad-Disc
Pros use walk behind machines for different sized jobs.  Hence, jobs range from small to heavy-duty. Which grinders you require will depend on the scale of work you are targeting.
Single-disc stone grinding machines have an operating width of 10 to 12 inches, yet dual-disc models will cover 20″ or more in one pass. These stone grinders make use of counter-rotating discs. This is designed to yield balanced torque. As a result, the grinder won't draw back and forth or sway from side to side during operation.
Planetary grinding equipment varies in coverage. These types of grinders cover anywhere from 11 to 36 inches. Additionally, they offer specific speed and direction control. This is done with planetary head(s) and satellite discs. The operator can maximize nearly every grinding process because of these features.
Disc rotation speeds range from around 250 to over 3,000 revolutions per minute. Machines can also come with various features. These include:
Floating heads that follow the contour of the floor
Versatile back wheels that hold grinding discs level
Vacuum ports that allow for dust-free, water-less grinding
Walk behind grinders are not the only types of machines used to grind stone though. There are more portable solutions.
Hand Held Grinder Designs
Grinders are also offered as hand-held devices. These are great for tight locations that larger devices can't reach. For example,  room corners or edges that are close to walls. Diameters of hand grinders can range from 5″ to 12″. Grinding machines feature a wide variety of tools and attachments. They can also be hooked up to an industrial machines for dust collection.
Fabricators also used hand-held machines to "clean up" areas by removing form marks and graffiti from upright surfaces. Because of their usability and portability, hand-held systems are used to grind concrete countertops.
Where They Shine
Grinding systems are extremely adaptable with regard to ornamental tasks. Additionally, grinders perform well for profiling flooring surfaces prior to applying thin coatings or paint. This is because they don't produce ridges in the material like scarifiers.
Grinders are typically most effective at stripping thin coatings and paints. They also are great for cleaning and for use on lightly abrading floor surfaces. Stone professionals  even use grinders to remove build up caused by:
Grime
Filth
Commercial Contaminants
Additionally, these tools effectively level irregular joints or raised spots in large areas. Finally, stone workers use grinding equipment to polish concrete surfaces with finer-grit abrasives.