Stone professionals often use various tools and supplies to enhance the workflow. For example, one kind of polishing pad that fabricators use to do this is diamond hand polishing pads.
Diamond Hand Polishing Pads
Fabricators use diamond hand polishing pads for various tasks. For example, they are great for creating round overs and polishing up edges; depending on the grit used.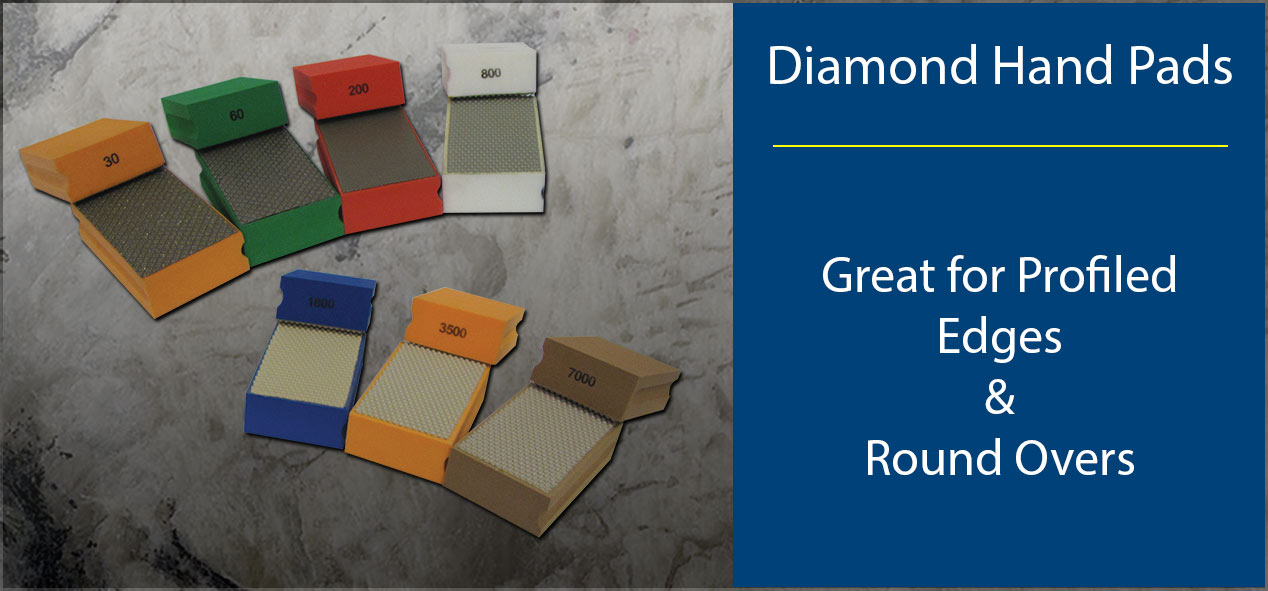 Touching Up Your Work
Router bits occasionally cause marks in stone material. For those times, it is good have hand polishing pads with you. The same goes for saw marks in stone material. Diamond hand polishing pads are available in many grits and are used by stone professionals. Grits available include:
Pad Construction
These hand polishing pads have a flexible foam backing so they can be used on flat surfaces as well as formed to the profile edge that you are working. Additionally, these pads measure 2″ x 3 1/2″ so they are easy to grip while you polish.
Purpose
Electroplated hand polishing pads – the following diamond hand pads are electroplated and shape at a faster rate. Additionally, they may be used as wet pads or dry pads.

30 Grit
60 Grit
100 Grit
200 Grit
400 Grit

Resin bonded hand polishing pads – the polishing pads below are resin bonded and are designed to bring stone or concrete up to a high gloss polish. These pads work very well with water.

800 Grit
1800 Grit
3500 Grit
Black Buff
White Buff
Copper Diamond Hand Pads
Fabrication professionals and stone pros use copper bond diamond hand polishing pads to enhance their workflow. There are 3 copper diamond polishing pads that are available from Weha. The copper diamond hand pads they offer include:
50 Grit – Copper
100 Grit – Copper
200 Grit – Copper
These copper pads have a life that is 3 times that of standard diamond hand pads. Therefore, fabricators use these pads to remove stock, bullnose, and to begin the polishing process.
Diamond Hand Polishing Pads