Fabricators and stone professionals use the Electro Flex pads for polishing soft stone materials like marble. Additionally, stone fabrication professionals use these marble polishing pads for specific finishes on granite materials.
Granite Honing & Marble Polishing Pads
The Electro Flex marble polishing pads have specific features. First, these pads have a hook & loop backing. Another characteristic is that they are available in multiple sizes and grits. Finally, they offer a specific cutting surface. As a result, granite and marble professionals view them as a necessary tool.
Pad Construction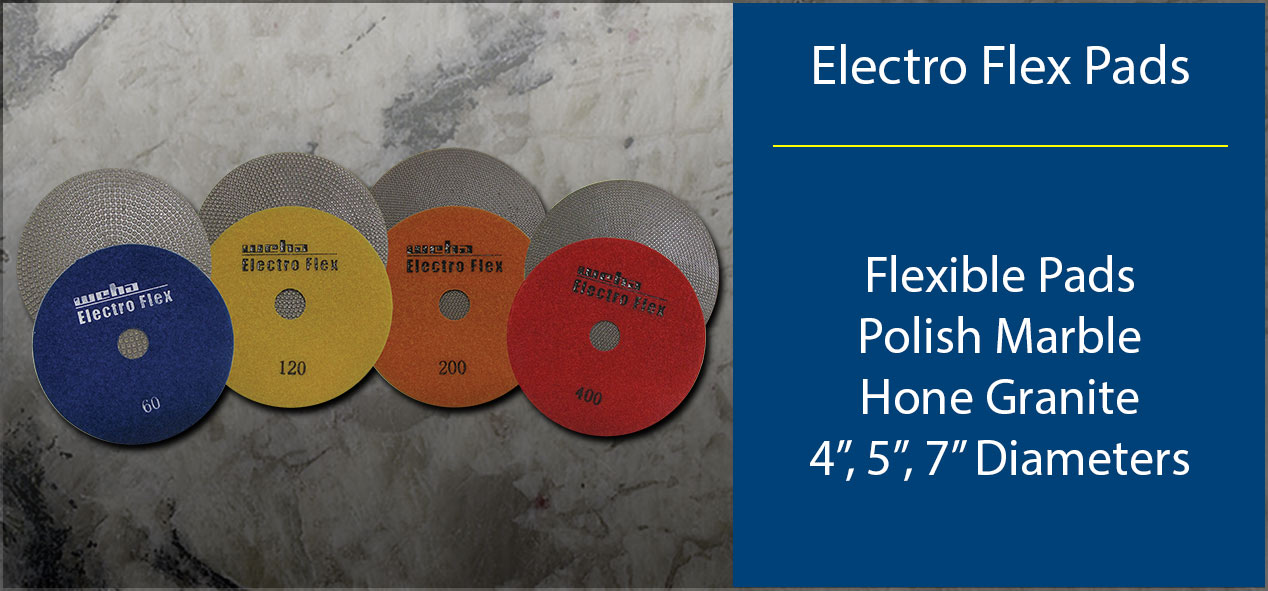 Although these polishing pads polish marble, they have other uses too. For example, fabrication pros use the Electro Flex polishing pads to produce a honed finish on granite surfaces. So Weha constructed these pads to make them perfect for these tasks. The Electro Flex "marble" polishing pads feature exposed diamonds. Therefore, stone professionals can use them to polish marble without "clogs" developing in the pad. Additionally, fabricators also use the Electro Flex pads to hone granite material by removing the polish from the surface.
Soft Material Polishing Pads
Stone professionals polish soft stone with these electroplated diamond pads. Hence, they can be used on the following stones:
Marble
Travertine
Limestone
Cultured Marble
Granite Honing
Additionally, these polishing pads can be used for removing the polish from granite material. As a result, the pad leaves produces a honed finish. Therefore, granite & marble fabricators use these specific polishing pads for both processes.
Available In Various Sizes
The Electro Flex granite honing and marble polishing pads are available in the following diameters via Weha USA:
4″ Electro Flex Marble Polishing & Granite Honing
5″ Electro Flex Marble Polishing & Granite Honing
7″ Electro Flex Marble Polishing & Granite Honing
The Electro Flex polishing pads require a wet environment.