Spiral Dry Polishing Pads
These dry marble polishing pads are designed for use on a variety of materials. Although made for dry polishing, it is natural to produce the same quality of polish as 7 step wet pads. These polishing pads offer a list of features that make them the choice of fabricators looking for a marble pad.
Designed for Dry Polishing Natural Stone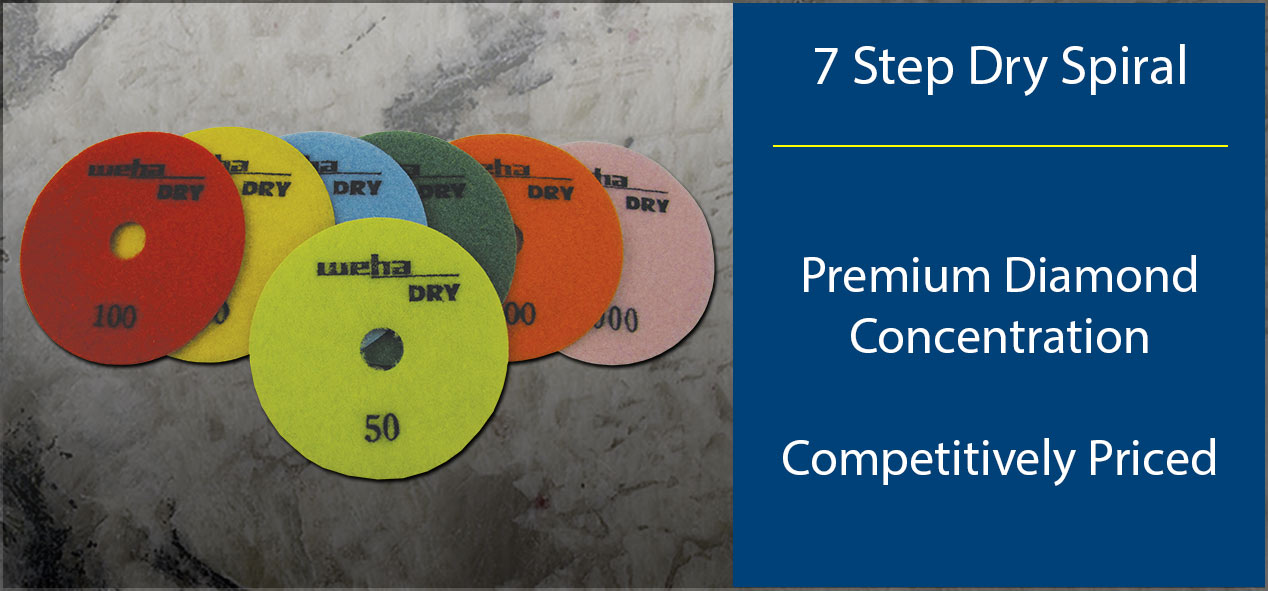 The spiral brick dry marble polishing pads were designed to perform well on a variety natural stone material. Although, we are referring to them as marble pads here, they work on the following stones as well:
Granite
Concrete
Marble
Limestone
Travertine
Soapstone
Fabricators and installers use these polishing pads on job sites and in the fabrication shop. The high diamond content of these dry polishing pads means that they will polish faster than standard dry polishing pads. Additionally, the life span of these pads is longer than that of standard dry polishing pads for marble.
A Quality Polish
What about the polishing quality of these dry pads? These pads will give you a polish that rivals that of 7 step wet polishing pads. The 7 step dry marble polishing pads are one of the best dry 7 step systems in the stone industry.
Features
A number of features contribute to the quality of this polishing system including:
Extreme Flexibility
Max RPM: 5000
Wet Use
Dry Use
Brilliant Polish
Spiral Dry Polishing Pads