Looking for 3 Step light quartz polishing pad that is versatile? The Trio 3 Step Diamond polishing pads polish virtually all stones in a rainbow of colors. As a result, fabricators use the Trio 3 Step polishing pads to get great polish fast!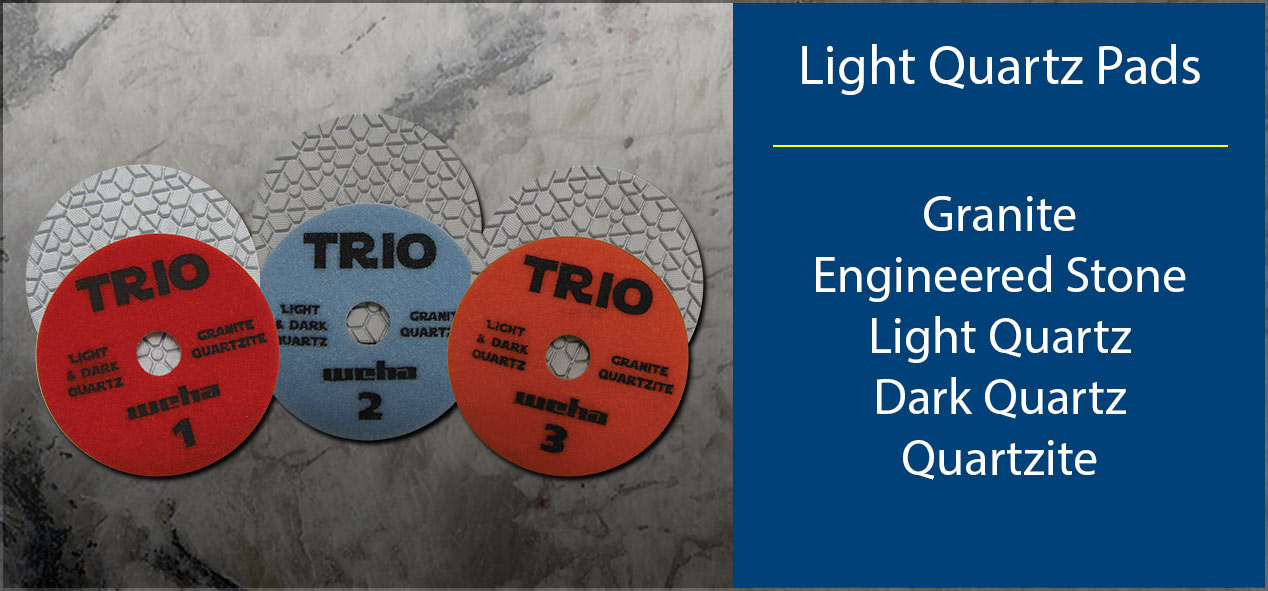 3 Step Light Quartz Polishing Pad
Fabricators are always on the lookout for a faster, better polish in as few steps as possible. So Weha sought to provide a solution that would be versatile and effective. What was the result? In short, the Trio 3 step polishing system. Additionally, here at GranitePolishingPads.net, we have decided to refer to them as the "light quartz polishing pad". This is because that stone and color combination proves to be a challenge to polish "cleanly".
You may be asking yourself, "what is so special about this polishing pad?" In fact, that would be a great question, so let's discuss the answer.
Exclusive Geo Pattern Design
The first characteristic that makes this polishing pad so effective on virtually every stone (even light colored quartz) is the pattern on the cutting surface. In fact, the Geo pattern design has three aspects that make it so effective:
Water Flow
Resin Bond
Flexibility
First, the Geo Pattern used on the cutting side of the Trio polishing pad allows water to flow through it easily. Thus, the pad does not hydroplane during the polishing process. (Hydroplaning reduces contact between the pad and the stone's surface.) So the pad makes really good contact during the polishing process and is able to cut into the stone very well. As a result, fabricators get a fast polish with the Trio 3 Step light quartz polishing pad.
Second, the polishing pad consists of a white hybrid resin bond. Therefore the pad will not bleed or leave resin marks on the stone during the polishing process. In fact, this pad can be used on dark quartz as well as light.
Third, the pad is flexible so it can be used for a variety of tasks including ogee polishing, sink bowls, and tight corners.
High Quality Polishing Pad
The Trio white quartz polishing pad is a high quality polishing pad. It is 3mm thick and offers a full matrix of diamonds; premium diamonds and resin are used. The geo pattern mentioned earlier makes the edges of this quartz pad durable so it resists outer segment loss.
Finally, the Trio light quartz polishing pad is versatile and can be used on the following materials:
Dark Quartz
Light Quartz
Quartzite
Granite
Engineered Stone