Looking for a dry polishing pad that provides you with a beautiful polish? Triad 3 Step pad delivers. Fabrication professionals choose this pad because of specific design features. See why Fabricators choose the Triad 3 Step polishing system.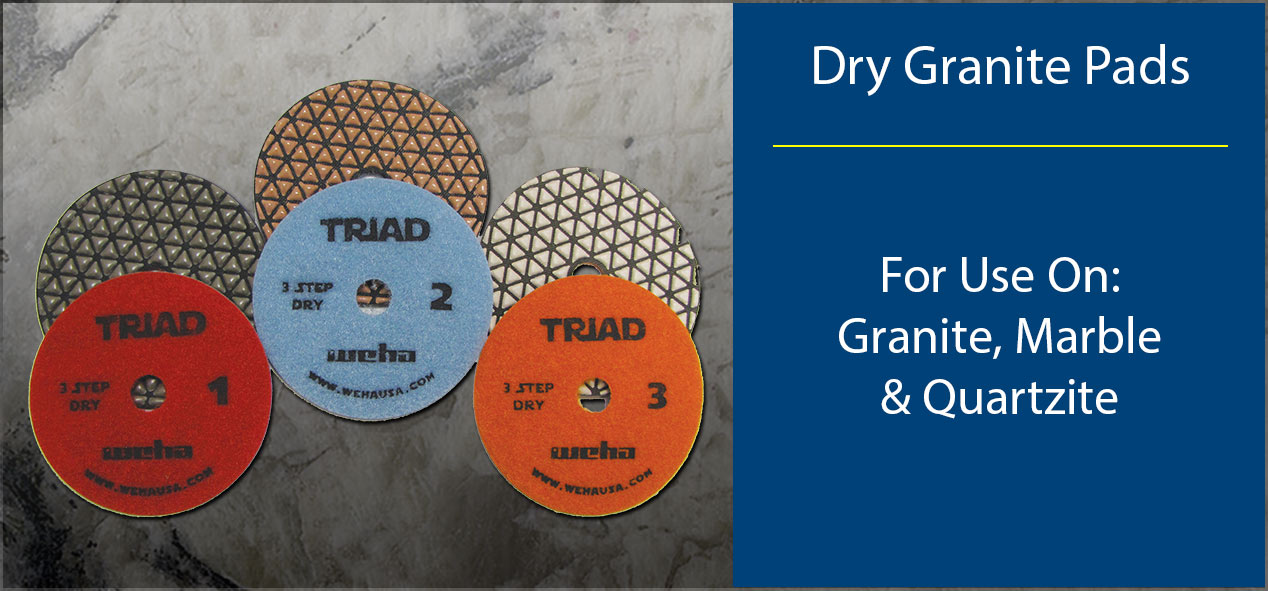 3 Step Dry Granite Polishing Pads
These dry polishing pads simplify the polishing process. As a result, the work is accelerated on the job site. This is because each step in the process plays its part in the process. Also, each pad prepares the stone for the next step in the sequence. Hence, the Triad dry polishing system produces a high gloss polish that matches the polish from a 7 step polishing system.
Dry Polishing Pads for Granite & More
The Triad dry granite polishing pads allow the fabricator to perform a variety of tasks on an array of material. For example, the following tasks can be performed:
Bullnose Polishing
Round Overs
Ogee Edges
Polishing Inside Bowls
However, granite is not the only material on which you can use the Triad dry pads. They also may be used to polish the following:
Marble (Wet or Dry)
Quartzite (Wet or Dry)
Engineered Stone (Wet Only)
Durable Construction
All aspects of this polishing pad have been reconsidered. This was done so that these dry granite polishing pads that will hold up under a variety of uses. So let's consider some elements that have been revolutionized.
Although it may not seem critical, the pattern on the surface of this pad is important. The maximum amount of diamonds are coated with ceramic crystals. This is due to the triangular design and curve of the pattern on the pad. In turn, this offers the most utilized concentration of diamond as possible. In addition to that, the triangular pattern on the cutting surface releases the maximum amount of heat. As a result, the ceramic bond is 20-30% cooler than other dry diamond polishing pads.
Another facet of the Triad's construction to consider is the backing to which the diamonds are attached. The back is extremely durable and flexible. Also, it does not release the diamonds. Hence, The Triad polishing pads are excellent for polishing curved surfaces.
Take a look at how well these pads perform:
Dry Granite Polishing Pads Edge Polishing Demonstration
Dry Polishing Granite Pads Bullnose Demonstration