5 Step Dry Natural Stone Polishing Pads
Looking for great natural stone polishing pads to use in a dry environment? Whether you are on the job site or in the fabrication shop, this 5 step system is designed to yield a brilliant polish on a variety of stone materials.
Great Polish In Fewer Steps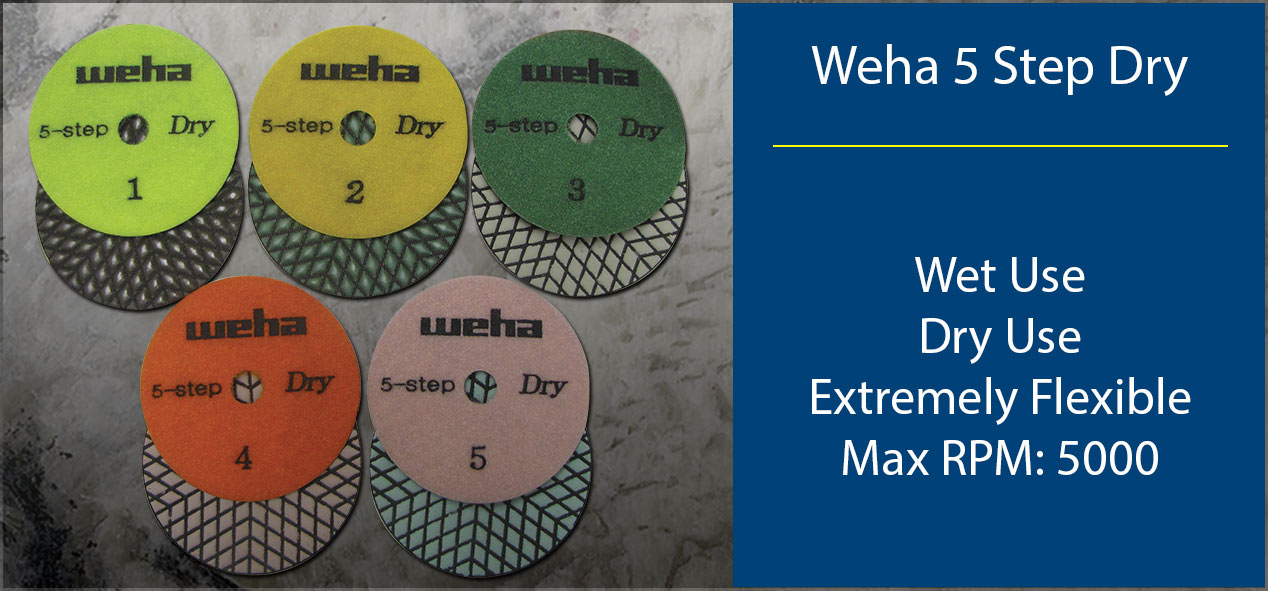 The 5 Step Dry polishing pad is engineered to give a great polish in just five steps. In fact, these pads are designed to produce a polish equal to seven step polishing systems. As a result, fabrication professionals can save over 30% on time by reducing seven steps to just five. What makes the 5 step dry system so effective?
Premium Diamond Concentration
One of the characteristics of these polishing pads is the diamond concentration that has been put into their construction. Because of the design of this 5 step polishing system, thees dry polish pads are compatible with:
Granite
Marble
Concrete
Limestone
Travertine
Other Natural Stone
New Matrix
The new diamond matrix used for these polishing pads means that this polishing system will polish faster than standard dry polishing pads. Additionally, they offer a magnificent polish and stay flexible over the course of the pad's life.
If you prefer using dry pads and are looking to decrease your polishing time then these may be the pads you are searching for.
Features
Super Flexible
RPM: 5000
Great Polishing
Premium Quality
Wet or Dry Use