Polishing Pads – A Variety of Choices
Technology is giving stone fabrication professionals a wealth of options when it comes to granite polishing pads. New materials as well as new systems and processes continue to improve the performance of stone fabrication tools. Because of these advances, polishing pads for natural and engineered stone are available in a variety of options. In this page, we will summarize a selection of stone polishing pads.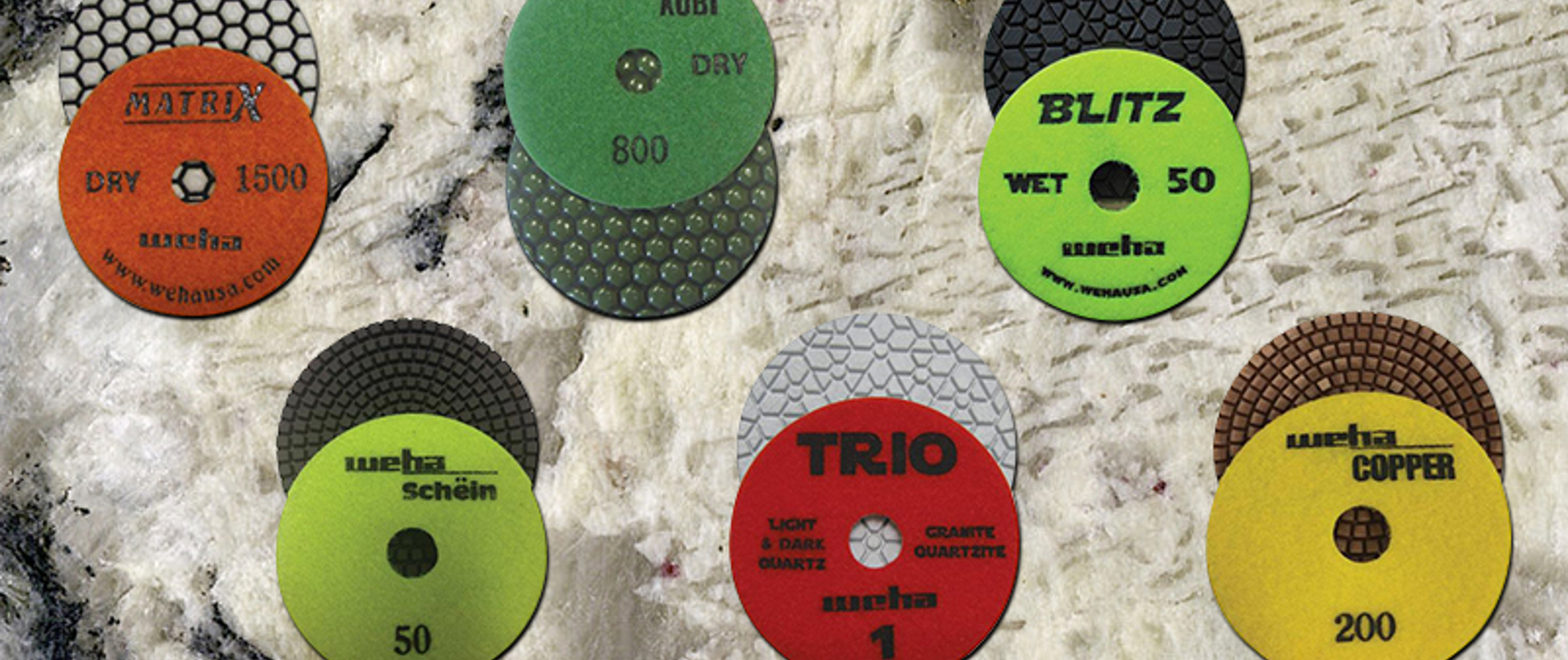 Economy Granite Polishing Pads
Leading off our polishing pad line up is a favorite of many; economical, low cost polishing pads. For some fabricators, the priority is the price of the polishing pad. As a result, nearly all suppliers of granite stone tools and supplies offer at least one economic series of pads. So we have dedicated a category to these kinds of polishing pads.
Dry Polishing Pads for Stone
There are specific cases when using a dry polishing pads makes sense. For example, the fabricator ma be working on a stone that is very hard. Or, maybe the environment is such that the fabricator cannot use water to keep the pads and stone from heating up. In cases like these, dry polishing pads are the choice. You will find a category on granitepolishingpads.net dedicated to dry polishing pads for natural and engineered stone.
Hand Pads for Stone Polishing
When would want to reach for hand pads to polish granite, marble, or another natural stone material? There are times when fabricators need to take care of an issue that is not large enough to set up the tooling necessary to run a polishing "disc". If the stone has some surface scratches or a minor discoloration, hand pads are nice to have. Because hand pads for stone polishing do not require time to set up and configure, small tasks can be dealt with quickly by utilizing them. Hand pads also work well on edges that have been profiled and need touch up work. In such cases, having hand pads is a practical solution to common situations.
Turbo Polishing Pads
Turbo polishing pads have a distinctive look and a very specific purpose. These polishing pads are great for flat surface polishing. Turbo pads are a rigid pad designed to give a great polish on flat surfaces of various types. They are also good for situations where you need to create a nice flat edge or to keep or maintain one. Uses for turbo polishing discs include:
Surfaces
Beveled Edges
Tight Corners
Seams
Wet Stone Polishing Pads
Earlier we looked at some of the reasons why fabricators reach for dry polishing pads. there are also times when making use of wet polishing pads makes sense. In the fabrication shop there is plenty of room and the environment is set up to run using water. Additionally, there are times when high temperatures must be avoided. One such case is when the stone being polished is a soft stone like marble. High temperatures and soft stones can result in discolorations on the stone. Wet polishing allows for lower temperatures that can prevent this from happening.
Multi Step Polishing Systems
Polishing pad systems come in a variety. However, more than one pad is involved in the process. Each fabricator has his own preference when it comes to the number of steps they prefer. Even the same fabricator miay prefer one system for one kind of material and and different system when it comes to another kind of stone. Here are some of the common multi-step polishing systems that have areas or posts on this site:
7 Step Pads – These are the tried and true standard in the industry. The seven step polishing process is one that many long time fabricators "cut their teeth" on. The seven step process of stone polishing is the bar by which other multi-step processes are measured.
5 Step Pads – With new technology comes new ways of improving the way the polishing process is performed. Fabricators are trying more and more to reduce the number of steps needed to get a high quality polish on a variety of stone materials. The 5 Step polishing systems are the results of these efforts.
3 Step Pads – Getting a polishing system down to just three steps used to be unheard of in the stone fabrication industry. And now, there are plenty of options from which to choose. That's right, fabricators are seeking less and less steps. 3 Step systems for polishing natural stone are available and are even the preferred method for some fabricators.
As mentioned at the outset, there are a number of specific types of polishing pads available on the fabrication tool market. Fabricators normally use more than one kind of pad in there workflow.