Fabricators continually look for ways to increase production with the polishing pads they use. Higher diamond content, better resins, and other measures are used to boost the productivity of the pad. Copper Flex is a high production polishing pad designed to supplement your polishing system and boost the production rate.
Supplimental Polishing Pad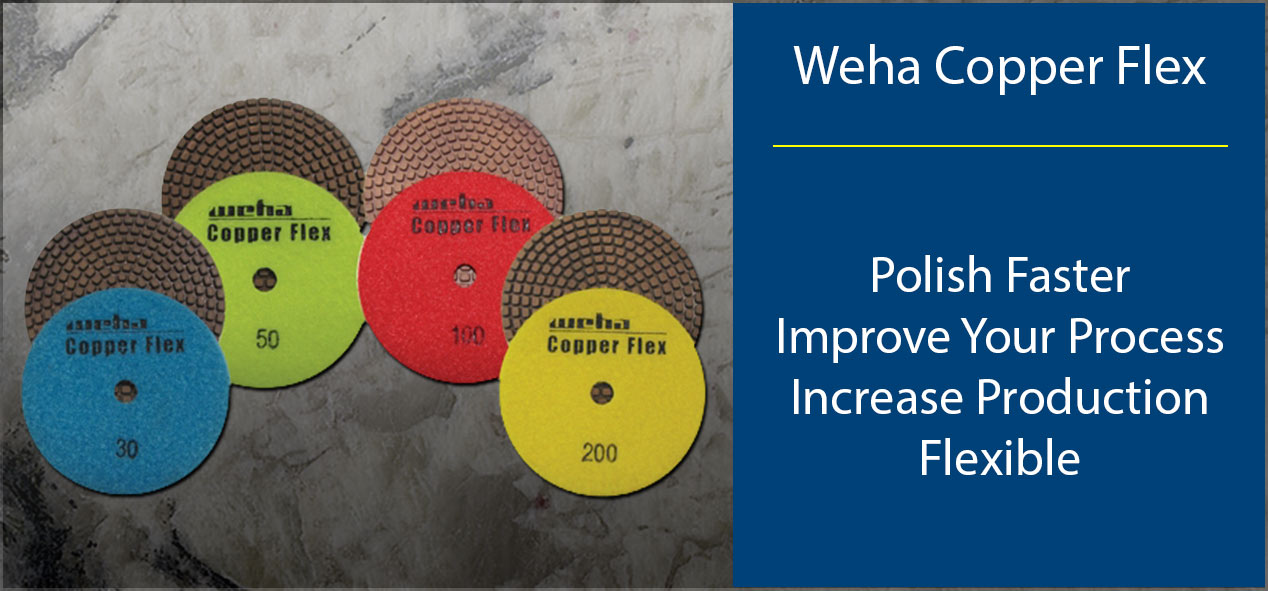 The concept of boosting the production rate of your polishing system appeals to many fabricators. Hence, Copper Flex increases the stock removal rate in order to accomplish that. Since it removes stock faster, fabricators get to the higher grit pads quicker. In turn, that boosts production. Copper Flex supplemental lower grit pads are much like the Copper Pads by Weha. However, this high production polishing pad system is flexible. As a result, they work well for polishing sink cutouts and corners. Additionally, these polishing pads work on the following materials:
Granite
Marble
Concrete
Engineered Stone
High Production Polishing Pad System
Increasing production in the fabrication process is easy with Copper Flex polishing pads. Stone professionals simply use the four Copper Flex pads in place of your lower grit resin bond pads. By using these low grit pads, you increase your production. How so? It gets you to the 400 grit pad quicker. Thus, increasing the rate at which you work. Getting through the polishing process quicker means that more slabs can be polished in the same amount of time. So fabricators that use the Copper Flex pads in place of standard resin bonded polishing pads realize higher production rates.
Copper Flex high production polishing pads are available in the following grits:
Stone Fabricators seeking to elevate the rate of production will benefit by considering the Copper Flex pads as an alternative to standard resin bonded low grit polishing pads.